"Many people don't realize that programs like WIC and SNAP do not pay for diapers, rash creams or other infant supplies. Diapers are an essential and often overlooked need for families struggling financially around the holidays," said Rep. Ryan Spain.
Recognizing this significant need in the community, State Representative Spain announced on Monday that he will again be hosting a Holiday Diaper Drive to address the insufficient supply of diapers to keep infants in need clean, dry, and healthy. The Holiday Diaper Drive runs through December 19 this year. Donors may drop off or ship unopened packages of diapers (all infant and toddler sizes and brands welcome), baby wipes, and diaper rash cream to State Representative Ryan Spain's Peoria District Office (located at Illinois Central College North Campus, Arbor Hall, Suite B, 5407 N. University St., Peoria, IL 61614). Diapers will be donated to local food pantries and diaper pantries throughout the 73rd Legislative District to help those in need this Holiday Season.

DONATE FROM OUR WISHLIST ON AMAZON

Rep. Spain will also be hosting Special Drive-Thru Diaper Donation Event at Illinois Central College North Campus on Sunday, December 11 from 1-3pm (follow signs after turning off North University Street). At the event, you can simply drive through and Rep. Spain can directly help you unload your donation for the drive.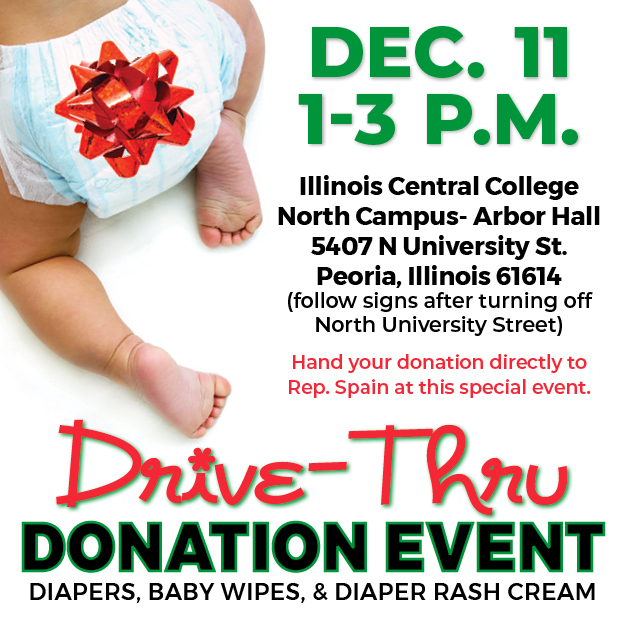 Rep. Spain continued, "many families need help with basic needs like diapers to ensure the best start for their children. I felt compelled to act on behalf of these hardworking families trying to do best for their children but in need of a helping hand."
Children under the age of 5 comprise 13 percent of the State's SNAP recipients and more than 25% of WIC recipients are infants. Diapers cost an average of $18 per week or $936 per year. According to the National Diaper Bank Network, low-income families report a shortage of 50 diapers per month. Donations to Rep. Spain Holiday Diaper Drive are encouraged through December 19 in order to get the diapers to pantries and to families before the holidays. Diapers in sizes 3-6 are needed most by area pantries.
Learn more and view the Amazon Wishlist at repryanspain.com; or even better, BUY LOCAL. If you would like to host a remote donation site at your church, business or organization to benefit the Holiday Diaper Drive, or if you have any questions, please call Representative Spain's District Office at 309-690-7373.