May 13, 2023

ETHICS REFORM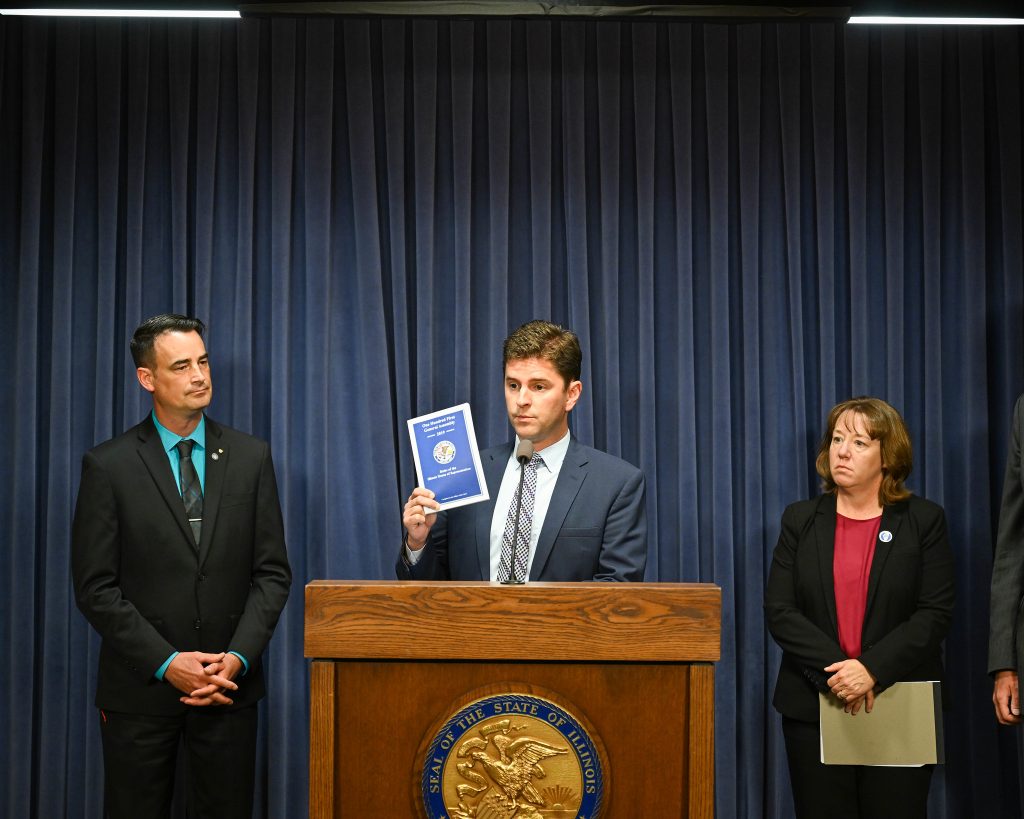 Illinois House Republicans: Democrats Must Act on Ethics.  Just one week after guilty verdicts were handed down in federal court, sealing the fate of the ComEd Four for their corrupt actions, and following this week's disclosure that former Democrat State Senator Tom Cullerton walked straight from his jail cell and into a lobbying firm, Illinois House Republicans sharpened their criticism on supermajority Democrats in Springfield for failing to clean up their own house and operating under the same corrupt Madigan rulebook.

In December 2020, Speaker Welch, acting as Madigan's appointed Chairman of the Special Investigating Committee, shut down hearings after previously receiving testimony from ComEd's compliance attorney. Despite repeated investigations, indictments, and arrests, Democrats have not acted on any meaningful anti-corruption reforms and have rarely called their colleagues out for wrongdoing. This week, former Democratic Governor Pat Quinn joined Republicans' calls to address conflicts of interest. House Republican Assistant Minority Leader State Representative Ryan Spain talked about those conflicts, saying, "Democratic Speaker Chris Welch shut down the Special Investigating Committee looking into Madigan, and then got Madigan's full endorsement for Speaker. Representative Lisa Hernandez shut down fair redistricting and then received a plum assignment as Chair of the Democratic Party of Illinois. And Governor Pritzker pushed to expand Medicaid-like benefits to undocumented immigrants and is now lobbying for managed care administration of these services while his own "blind trust" is reportedly invested in the state's largest managed care provider, Centene. These are existing conflicts of interest by Democratic politicians in Illinois which should not be ignored."

House Republican Floor Leader Patrick Windhorst joined Spain and Representatives Amy Elik and Blaine Wilhour in asking, "Governor Quinn said yesterday we need change; Congressman Sean Casten is calling for change. So, we ask again – what is it going to take to get House Democrats to recognize we need to stop corruption once and for all?"

Representative Amy Elik further pointed out an obvious ethical loophole left unaddressed by Democrats. "Under current law, former Speaker Madigan will continue to collect a taxpayer-paid pension until a guilty verdict is reached. This means Madigan could go on to collect his elected official pension for several years before it's taken away. That's why I've filed legislation to suspend a lawmaker's pension if they are charged with corruption by federal investigators," said Elik referring to her legislation, House Bill 1277.

"We have numerous bills to address ethics reforms, but Democrats will never act until the courts or the public force their hands. They have shown themselves totally unwilling to clean up the mess they have created," said Representative Blaine Wilhour, a chief sponsor of more than a half-dozen meaningful ethics reform proposals withering from inaction in the House under Democratic leadership.
BUDGET

Governor's Office revises FY23 revenue numbers sharply downward.  The revision came in the monthly report that is required by law to be presented by the Governor's Office of Management and Budget (GOMB) to the Legislative Budget Oversight Commission. By statute, the Oversight Commission oversees compliance by the executive branch with the budgets enacted by the General Assembly. In April 2022, the legislative branch enacted a budget for FY23 (the 12-month period starting on July 1, 2022, and ending on June 30, 2023) that was believed at the time to be in surplus. 

The General Assembly's budget-monitoring arm, the Commission on Government Forecasting and Accountability (CGFA), has already warned that Illinois' FY23 tax revenues are falling far short of projections. Tax payments made to the Department of Revenue (IDOR) in the key tax payment month of April 2023 generated disappointing numbers. Now, GOMB has updated its April 2023 and FY23 numbers to reflect these tax shortfalls. The gap is a massive one. For example, GOMB had expected that, for April 2023, the State would receive individual income tax payments of $3.77 billion. In reality, the State received only $3.13 billion from this source in April 2023, leading to a shortfall of $637 million for the month. Corporate income tax payments and sales tax payments also fell short of expectations in April. 

The GOMB report confirms that sharp, bipartisan action will be necessary if the General Assembly is to maintain its constitutional responsibilities and enact a balanced budget for the approaching FY24. With many facets of the global economy slowing down, money is coming in well below projections, and this is not a problem that going to go away. At the same time, many Democrats in Springfield are pushing for new spending programs and more generous funding for existing programs. The balanced annual Illinois State Budget is a Constitutional requirement set forth in Section 2 of Article VIII of the Illinois Constitution.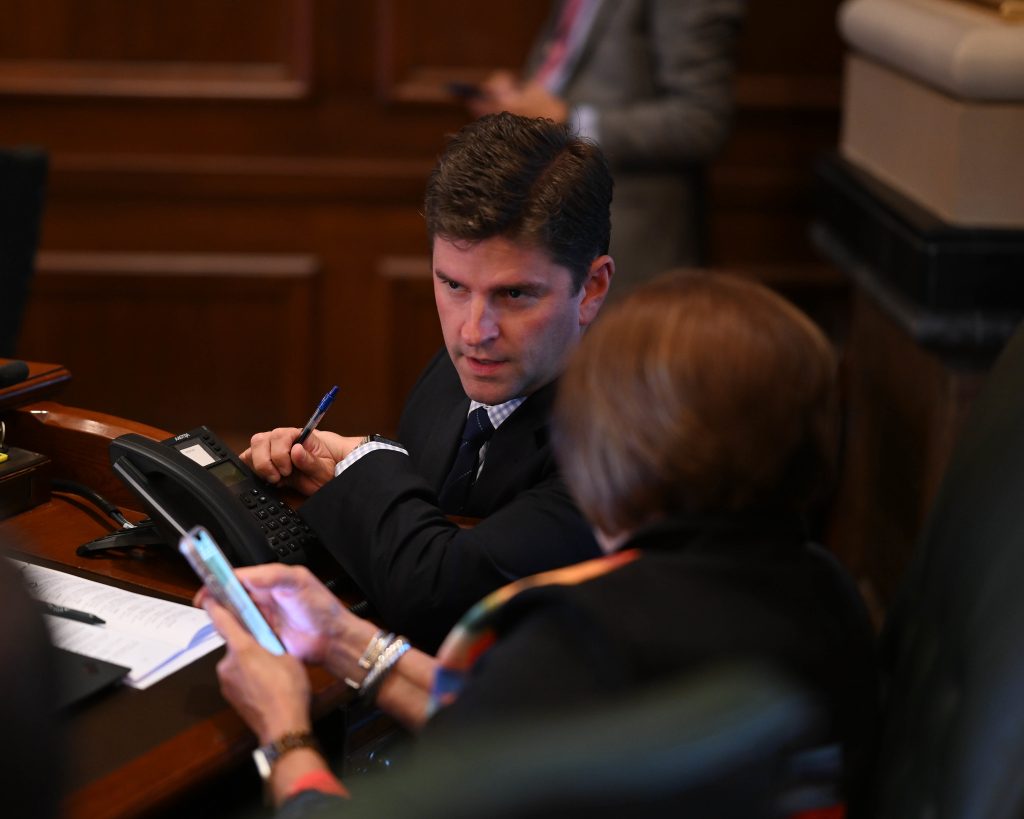 As Republicans push back against ballooning costs associated with free health care for undocumented immigrants, Democrats shut Republicans out of budget talks.  The Medicaid-style health benefits program for undocumented immigrants now costs $1.1 billion, which is $880 million more than had been previously projected by the Illinois Department of Healthcare and Family Services (DHFS).  

Within the terms of this controversial program, Illinois has repeatedly expanded taxpayer-funded health benefits for undocumented immigrant adults. The current program covers all adults in these categories who are aged 42 and up. These adults are covered in age groups aged 42 to 54, aged 55 to 64, and those aged 65 and up. Immigrant enrollees pay no insurance premiums or co-pays for this taxpayer-funded health benefits program.

Budget analysts say that the cost of this program, which has seen massive expansions in the Democrats' budgets as recently as April 2022, is now swallowing up almost all of the natural growth in resources enjoyed by the State sector of Illinois' overall public sector. Because this program is growing so fast, there is no additional money to deal with other urgent priorities.  

The Rules of the House and Senate chambers of the Illinois General Assembly provide for appropriations committees to meet, hear witnesses, discuss the budget issues facing Illinois, and allocate available money. In a series of moves associated with Illinois' current budget shortfall, and with the sharp cost pressures associated with undocumented immigrants and other needs, the hard numbers in the FY24 budget have been pulled out of the appropriations committees and moved behind the Democrats' closed doors.       

COVID-19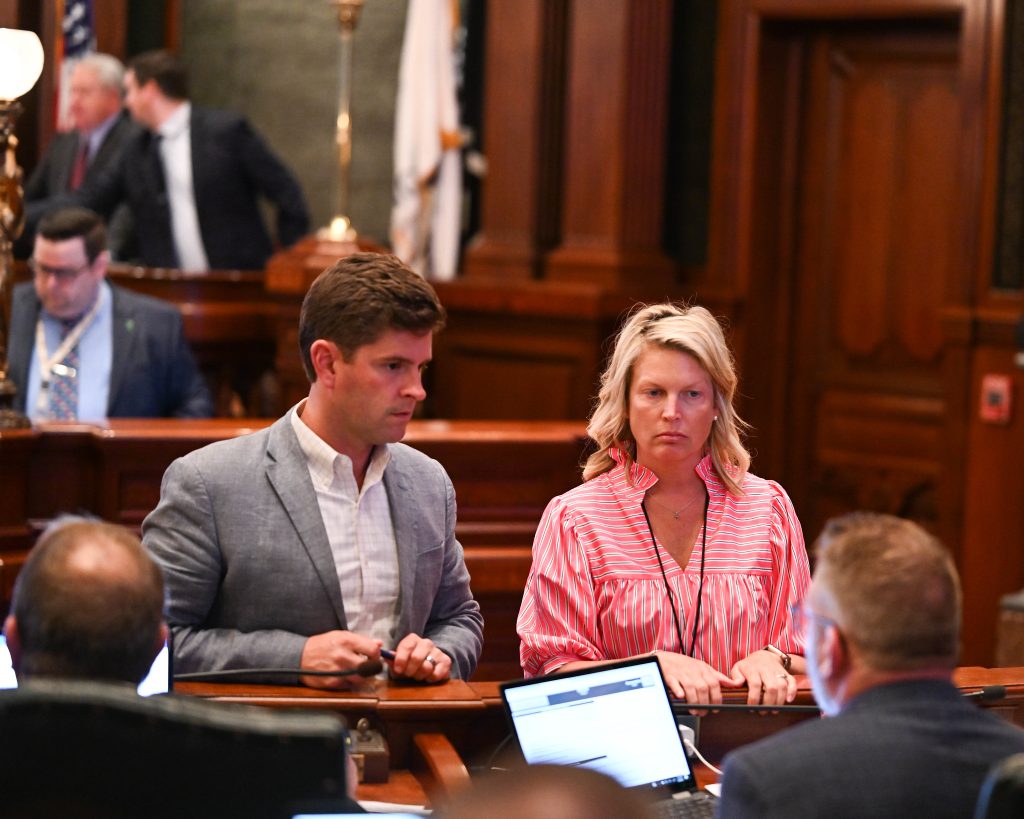 Official end to COVID-19 emergency in Illinois.  After 1,155 days of continuous rollovers, Governor JB Pritzker allowed the coronavirus emergency proclamations in effect throughout Illinois to expire. The expiration marks the end of more than three years of mandatory stay-at-home orders, partial economic shutdowns, and mandatory facial coverings and vaccinations in a variety of workplaces and settings. These government-ordered precautionary measures changed the daily lives of millions throughout Illinois. The COVID-19 emergency was first declared by disaster proclamation on March 9, 2020, as infectious coronavirus spread into the United States from mainland China.

Illinois was one of the last states to declare an official end to the coronavirus pandemic. By May 2023, 44 of the 50 states had already ended their pandemic states of emergency.   The final COVID-19 emergency proclamation orders expired in Illinois on Thursday, May 11.
SPRINGFIELD VISITORS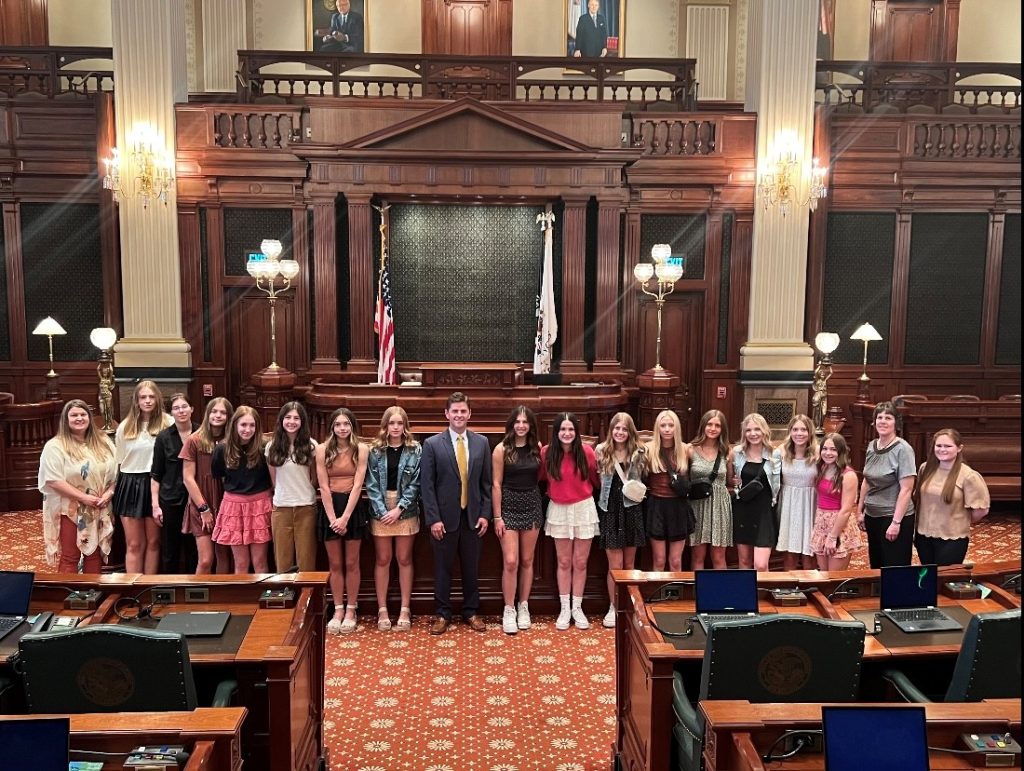 Rep. Spain welcomed the Germantown Hills Middle School volleyball team to the Illinois House this week to congratulate them on winning the 2023 Illinois Elementary School Association (IESA) Class 3A eighth grade girls volleyball championship.
The Warrior's championship is the program's firsts. The young ladies finished the season with a record of 22-5-0. The team included Gabby Blahnik, Maddie Culp, Addie Lahood, Allie Lueddecke, Ella Miller, Keira Murray, Allie Nelson, Jenna Oderwald, Abby Petersen, Addison Riggins, Ella Seckler, Aurelia Slape, Gillian Tyra, Tabby Vandeschraaf, and Junie Wagoner.
The team was lead by Head Coach Gail Elbert, Assistant Coaches Kasey VandeSchraaf and Victoria West. The manager was Lydia Beard and scorekeeper was Sarah Light.
The team and coaching staff was able to visit Rep. Spain's office and were introduced on the House Floor.
Rep. Spain congratulates the team on their season and championship!