CRIMINAL LAW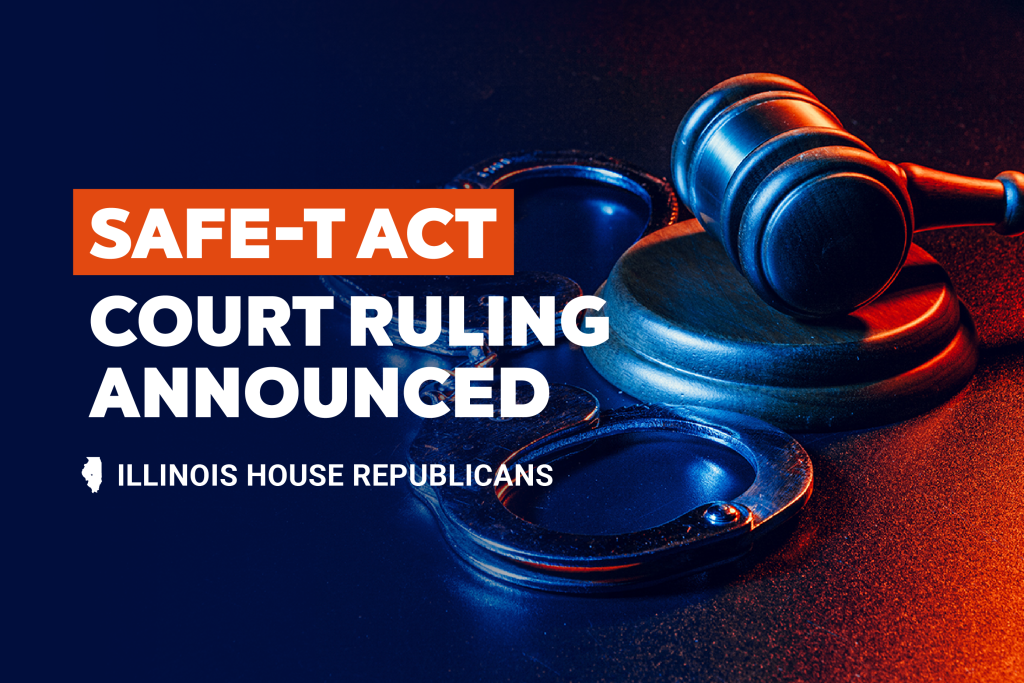 Illinois Supreme Court Upholds Elimination of Cash Bail.  The Illinois Supreme Court has announced its opinion on the Pretrial Fairness portion of the SAFE-T Act, and by a 5-2 decision, they have ruled it as constitutional. This strikes down a lower court ruling in December 2022 which found that the portions of the SAFE-T Act that abolished cash bail were unconstitutional. Thus, the elimination of cash bail is now set to go into effect on September 18, 2023 in Illinois. Illinois becomes the first state in the U.S. to totally eliminate cash bail, and it comes at a time when crime in the state remains at the top of the nation.

"Today's ruling by the Supreme Court confirms Illinois' status as the state of lawlessness and disorder," stated FOP State Lodge President Chris Southwood. "The court ignored the pleas of nearly every prosecutor in the state of Illinois, Democrat and Republican, that the elimination of cash bail will put dangerous criminals back on the street instead of keeping them in jail or forcing them to post cash bail as they await trial. Many of those offenders will commit crimes again within hours of their release." 

The elimination of cash bail was included as part of the controversial, sweeping criminal justice reform legislation known as the SAFE-T Act, which was passed by the 101st General Assembly on the last day of its Lame Duck Session and signed into law by Gov. Pritzker in February 2021. The Pretrial Fairness Act, which abolishes the current cash bail system, was slated to take effect on January 1, 2023. 

However, lawsuits were filed by state's attorneys in 65 counties alleging abolishing cash bail was unconstitutional. On December 28, 2022, Kankakee County Judge Thomas Cunnington found that the pretrial release portions of the SAFE-T Act violated the bail clause, the crime victims' rights clause, and the separation of powers clause of the Illinois Constitution. The Illinois Supreme Court issued a stay on December 31, 2022, delaying the effective date of the Pretrial Fairness Act until it heard arguments and ruled on its constitutionality. 
 
The Illinois Supreme Court heard oral arguments on both sides of the case on March 14, with the lawsuits over cash bail pitting Gov. Pritzker and the state's Democratic leaders against nearly half of Illinois' state's attorneys and county sheriffs. The Court took up the case on an expedited schedule.

The Supreme Court's opinion said that the Illinois Constitution does not mandate that monetary bail is the only means to ensure criminal defendants appear for trials or the only means to protect the public. The law eliminates the cash bail system currently used in court which let those who could afford it pay their way out of jail while others who could not make bond would remain in jail. The SAFE-T Act lets judges decide who gets pretrial release and who should be held in custody.

Supporters of eliminating cash bail argue that it gives courts the ability to look at a number of factors for pretrial decisions without focusing on a person's ability to pay. Opponents of eliminating cash bail believe the law handcuffs judges, who will now only be able to detain people charged with specific felony crimes. There are also arguments that this law will make the state less safe by releasing more violent criminals back into society.

Illinois House Republicans opposed the SAFE-T Act and the elimination of cash bail, as the legislation passed with only Democratic votes. Leader Tony McCombie established the Truth in Public Safety Working Group during the Spring 2023 Session. The group met multiple times over 10 weeks with stakeholders and presented a package of bills that included multiple changes to the SAFE-T Act and the Pretrial Fairness Act. The working group met with Democrats to discuss the proposals at the end of the spring session, but nothing has moved forward.

"The ruling to uphold the SAFE-T Act is a great disappointment for reducing crime and supporting public safety in Illinois," said Deputy Republican Leader Ryan Spain in reacting the Safe-T Act Court Ruling. "When this legislation was proposed in 2021, I watched Democrats use inappropriate maneuvers and lameduck tactics to pass a flawed bill. Now Democrats have flexed their judicial gerrymandering to deliver a court ruling in their favor. Madigan's Court delivered one final favor to their political godfather. This is a terrible outcome for the people of Illinois. We must redouble efforts to empower citizens to rid our government of corruption and unethical deal-making."
 
BUDGET
Pritzker's handling of undocumented immigrant healthcare program comes under sharp criticism.  Under current State law, Illinois taxpayers must pay for the healthcare benefits of many undocumented immigrant adults and children. The estimated cost of providing these benefits to undocumented immigrants in Fiscal Year 2024 is between $1.1 billion and $1.2 billion. In contrast to conventional Medicaid spending, almost all of this expense must be paid for by Illinois taxpayers; federal healthcare programs will reimburse almost none of these expenses because the medical patients are not citizens or legal residents of the U.S.
 
With the goal of reducing this expense line item by $550 million, the Pritzker Administration released new emergency administrative rules earlier in July 2023. These rules are expected to close off access to this program to some undocumented immigrants who would otherwise have been eligible for benefits. However, even if these emergency rules function as intended, the program is still expected to cost Illinois taxpayers at least $550 million in FY24.
 
At a bipartisan legislative committee meeting of the Joint Committee on Administrative Rules (JCAR) this week in Chicago, the new Pritzker Administration rules came under sharp criticism. Some of the lawmakers present stated the new rules had heartlessly cut off access to this vital program for thousands of Illinois residents who had been hoping to use it to deal with urgent personal medical needs. Others pointed out that this new program, whose origin had never been fully discussed or publicly debated, had created a vast new taxpayers-funded benefit and budget expense. The Chicago JCAR hearing was held on Tuesday, July 18.     
 
CONSUMERS

$68 million settlement in Instagram case.  The settlement is an element of the outcome in a DuPage County class-action lawsuit, filed on grounds of alleged damages to Illinoisans' personal privacy, against the image-sharing and social media website Instagram. An arm of Meta, Instagram is used by hundreds of thousands of Illinois residents to share images and personal data. The lawsuit claimed that Instagram, as part of its in-house technology and business model, improperly collected and stored the personal biometric information of its users in its cloud-based database.
 
As part of the decision, Instagram/Meta did not admit wrongdoing but agreed to pay $68 million to persons who file claims. All individuals who used Instagram while in Illinois at any time between August 10, 2015, and August 16, 2023, are pre-registered parties to the settlement; they are granted the right to register and file a claim. Similar payments and settlements have been made by Google, Snapchat, and Facebook. As with Instagram, Facebook is a platform within the Meta social-media empire. The Instagram settlement was announced on Tuesday, July 18.

Remaining after the legislatures' Spring Session are many unaddressed problems with Illinois Biometric Privacy Law.
 
DOWNSTATE
Illinois corn industry sounds alarm over potential new federal rule.  The rule, which has been put out for comments by the U.S. Environmental Protection Agency, would speed up the transition from motor fuel-based vehicles to electric vehicles (EVs) by requiring two-thirds of new car sales to be EVs by the year 2032. This rule, if it is promulgated and not found to be unconstitutional, would sharply reduce demand not only for crude oil and oil-based gasoline but also for corn-based ethanol.  
 
In its comment, the Illinois Corn Growers Association projects that the proposed EV mandate rule, if put into place, would reduce future demand for U.S. corn by 1 billion bushels/year. This would have a potentially massive, negative effect on the price of corn, the value of farmland used to grow corn, and the status of financing used to back this farmland and enable its transfer and productive use.   
 
JOBS
 
Unemployment rate at 4% in June.  The Illinois Department of Employment Security (IDES) announced Thursday that the unemployment rate was down -0.1 percentage points to 4.0 percent in June, the fourth consecutive monthly decline. Nonfarm payrolls increased by +8,400 in June. Both estimates are based on preliminary data provided by the U.S. Bureau of Labor Statistics (BLS) and released by IDES. The May revised unemployment rate was 4.1 percent, unchanged from the preliminary May unemployment rate. The May monthly change in payrolls was revised from the preliminary report, from +2,500 to +5,400 jobs. The June unemployment rate and payroll jobs estimate reflect activity for the week including the 12th.
 
In June, the industry sectors with the largest over-the-month job gains included: Educational and Health Services (+5,300), Construction (+2,900), Leisure and Hospitality (+2,900), and Government (+2,900). The industry sectors with monthly payroll job declines included: Professional and Business Services (-5,400), Manufacturing (-2,100), and Trade, Transportation and Utilities (-2,000).
 
The state's unemployment rate was +0.4 percentage points higher than the national unemployment rate reported for June, tied with May for the smallest difference since February 2020 (pre-pandemic). The national unemployment rate was 3.6 percent in June, down -0.1 percentage points from the previous month. The Illinois unemployment rate was down -0.4 percentage points from a year ago when it was at 4.4 percent.
 
NATURAL DISASTERS
 
Canadian wildfires blamed for widespread Illinois haze and particulate warnings.  The air quality warnings have been posted repeatedly in Illinois and surrounding U.S. states for many of the weeks of summer 2023. The warnings were repeated in mid-July for Illinois and Indiana. The phenomenon is associated with hazy skies, brilliant red sunsets, and potential health concerns for persons with respiratory challenges. 
 
The appearance of this haze follows many outbreaks of wildfires in the forests and bush country of northern Canada. Usually well-watered, these woodlands have become tinderboxes as the result of a severe drought.   
 
SUMMER READING CLUB

Only a few days are left to enroll in my Annual Summer Reading Club for grade school students who live within the 73rd Legislative District.  The program is offered to encourage students to read over the summer and promote the lifelong benefits of literacy.

"Students who read over the summer enter the school year in the fall ahead of students who do not read over the summer.  This is a fun way to reward students by simply reading eight books over their summer break and returning a form signed by a parent or guardian. It's important for all of us in our communities to encourage students to get ahead by becoming better readers," said Represntative Ryan Spain.
Brochures were distributed in May through area schools, but are also available on Rep. Spain's website. Participation in this program can overlap with any other summer reading program offered through area libraries. Participating students have until July 31st to read their eight books and will be sent a prize upon completion of the program.