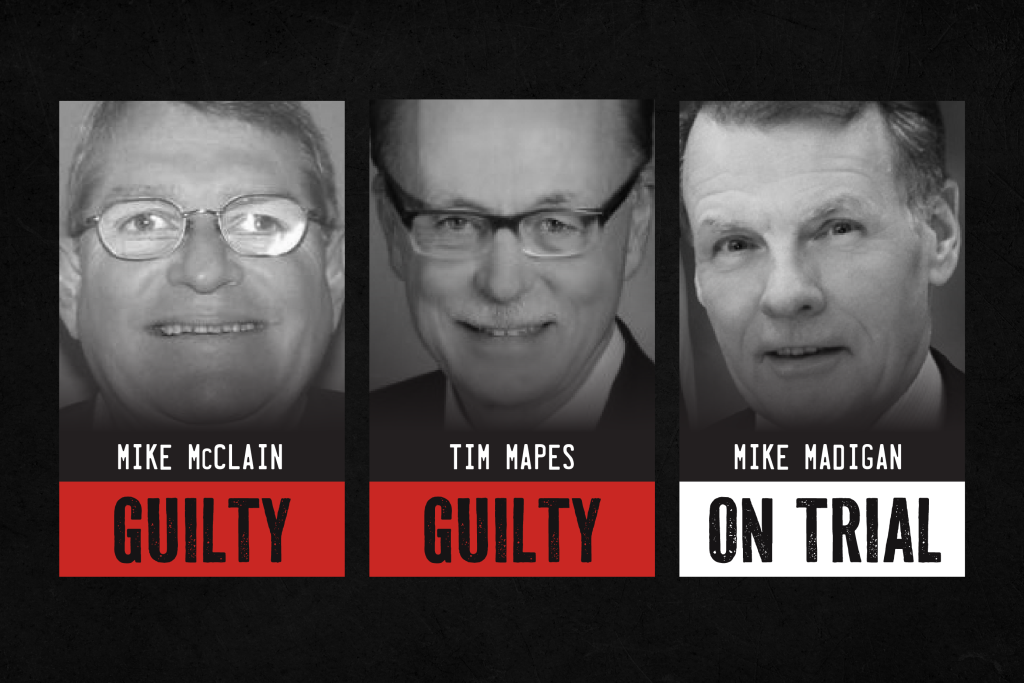 GENERAL ASSEMBLY
Tim Mapes, key aide to former Speaker Madigan, convicted in federal court.  The former chief of staff to the office of the Speaker was found guilty of perjury and obstruction of justice.  The charges were related to false answers that Mapes voiced to a federal grand jury when he was being questioned under oath.  The false answers were closely related to a parallel criminal inquiry mounted by federal investigators against Mapes' former boss, Chicago's Michael J. Madigan. 
Extensive testimony, over a multi-day trial held at the federal courthouse in Chicago, generated a verdict that former Chief of Staff Mapes knew he was giving false answers and did so knowingly in a manner that created criminal liability for himself.  Legal commentators speculated that Mapes's false answers were related to the alleged desire of the former aide to cover up the alleged pattern of Madigan criminal conduct that was being investigated by the grand jury.

House Deputy Minority Leader Ryan Spain (R-Peoria) and Assistant Minority Leader Patrick Windhorst (R-Metropolis) held a press conference shortly after the guilty verdict was announced to respond and renew their calls for ethics reform in state government.

"It's getting a little tiring having to respond to yet another corruption trial involving Mike Madigan and his associates while the Democratic Leaders of Illinois government sit by and refuse to take up substantive ethics reform," said Spain. "On the one hand, it's a good day that justice has been served, but on the other hand, it's a sad day because jurors in federal court are again having to clean up the crisis of corruption plaguing the state of Illinois."

In a related federal case, Mapes' former boss, erstwhile Illinois House Speaker Madigan, has become the target of an initial and, then, a superseding federal criminal indictment alleging active leadership in a years-long, multi-element pattern of influence peddling and lawmaking corruption.  The Madigan proceedings are in extended pretrial mode.  A key element of the Madigan pretrial process is the determination of who will testify against the former head of the Illinois Democratic Party, and what testimony they will provide.

Former chief of staff Tim Mapes could face a maximum prison term of 25 years for the crimes of which he was convicted this week.

House Republican Leader Tony McCombie reacted to the verdict by also calling for ethics reform.

"We have had too many glaring reminders that we must eliminate bad actors, self-serving politicians, and corruption from our statehouse, and this is just another verdict to prove it," McCombie said. "It would be appalling if Speaker Welch did not move forward legislation House Republicans have filed to address ethics and instill public trust in our government. While I strongly believe reform should start in the House, if Speaker Welch continues to stall on reforming the corrupt practices of this state, I hope President Harmon and the Senate will take the lead."

August marks the conclusion of the bill signing cycle following the 2023 spring session.  Lawmakers have introduced 6,717 bills since taking their oaths of office in January 2023, with 4,129 bills filed in the House and 2,588 measures submitted to the Senate as of August 24, 2023.  The vast majority of these bills were filed for consideration in the 2023 spring session.     
Only a bit more than 8% of these bills have become law as of the August conclusion of the 2023 spring session signing cycle.  When Gov. Pritzker concluded his 2023 summer bill-signing cycle, 561 measures had been signed as Public Acts.  More than six thousand Illinois legislative measures were either rejected by the General Assembly, ignored, or folded into other bills.  Some combination Public Acts contain the texts of two or more spring 2023 bills.    

Some of the bills signed into law this summer went into effect immediately, while others have a "delayed effective date" that will swing into action on January 1, 2024, or some other date.  Some bills are being held over for further consideration in the fall veto session and beyond.  In some cases, a key stakeholder will ask that a bill be held to enable further discussion of a key issue.  Persons looking for information on where any bill they may be following is in the process, or information on the effective date of a new law, can consult the Illinois General Assembly website.

FOOD ACCESS
Rep. Spain backed legislation supporting rural grocery stores now law. State Representative Ryan Spain was a pivotal vote to help pass legislation during the Spring Session to combat food deserts, creating the Grocery Initiative Act. Spain voiced his support for Senate Bill 850 on the House floor prior to the vote. Areas that qualify as food deserts are now eligible for grants and support from the Illinois Department of Commerce and Economic Opportunity (DCEO). 
Many smaller downstate communities have felt the negative impacts of losing their local grocery stores, and this legislation will help make sure that is less likely to happen in places like the village of Sheffield (pop. 851) in Bureau County. Sheffield has loyally patronized a grocery store, Royal Food Mart, for the last 82 years, owned and operated by the Winger family.

"In the world of grocery stores, we're seeing major issues that this bill will correct," Spain stated. "I think this is a very important initiative that will be beneficial in rural communities like Sheffield. When a community loses their grocery store, they lose the identity of their community. And they lose one more reason to retain population and keep families in their community."

Thanks to this new legislation, the Winger family can turn over the business to a not-for-profit entity, with Cornerstone Community Wellness taking over store operations and qualifying for support from the state. Royal Food Mart closed last November but is expected to re-open this summer better than ever, with a building makeover and improvements being done thanks to resources from the Grocery Initiative Act being supported by Rep. Spain. Other nearby communities, including Toulon in Stark County and Toluca in Marshall County, have also struggled recently to attract and keep small town grocery stores, and this legislation is designed to help with those issues.

For video of Rep. Spain speaking on the House floor in support of SB 850, Click Here.

CRIMINAL LAW
Organized retail theft is an increasing threat to Illinois bricks-and-mortar retailers. The U.S. Chamber of Commerce estimates the cost of Illinois retail theft at more than $4 billion per year. The initial figure of $2 billion, representing the value of the goods directly lost to theft, must be more than doubled to cover the ancillary costs of retail shrinkage. These include the higher operating costs required to pay workers to expose themselves to a high-crime environment, insurance costs related to high-theft environments, maintenance costs to operate video and other security systems, and many other related expenses.
Rob Karr of the Illinois Retail Merchants Association (IRMA) agrees with observers who are seeing growing 'flash mob' retail theft activity.  Many Illinoisans are now familiar with video scenes of insta-gatherings which overwhelm a store.  Karr reports that IRMA's investigation has found that many of these thefts are organized behind the scenes by criminal gangs.  The flash-mob theft not only overwhelms store personnel, but enables the gathering of a large quantity of desirable goods.  The goods can be shipped by fast freight to a faraway customer who does not ask too many questions.  International freight globalization is putting old-fashioned theft 'fences' into the shade.   IRMA's Karr spoke to WTTW-TV on Monday, August 21.

DOWNSTATE
Much of Illinois enjoys relief from drought conditions; challenges continue in some subregions. Inadequate rainfall in late spring/early summer 2023 threatened Illinois agricultural production and impacting key milestones of field crop maturity.  A combination of high heat and adequate-to-drenching rainfall in many sections of Illinois has improved the soil conditions reported by many farmers to the U.S. Department of Agriculture (USDA).  Farmers report 73% of Illinois fields have "adequate" or "surplus" topsoil moisture, more than enough to enable corn and beans to move to the next level. 
Farmers say that 64% of Illinois cornfields are now showing "good" or "excellent" condition, with corn dough reaching 80%.  This is in line with the five-year average.  For soybeans, 65% of the bean fields are "good" or "excellent," with 86% of the crop setting pods, slightly above the five-year average.

Not all sections of Illinois are doing well right now.  Precipitation reports indicate continued inadequate rainfall in some parts of northern, northwestern, and western Illinois.  The USDA this week added McDonough, McHenry, and Mercer counties to the list of 35 counties where farmers may qualify for emergency loans from the Farm Service Agency with respect to cash flow situations arising from the 2023 growing season.

JOBS
July 2023 unemployment figures for Illinois.  The unemployment figures for July reflected overall economic recovery from the job-destroying effects of the 2020 pandemic and economic slowdown, with Illinois employers supporting more than 6,153,000 nonfarm Illinois payroll jobs.  This was up 11,200 jobs from June 2023, and reflected an increase of approximately 89,700 jobs from the number supported one year earlier.  
However, Illinois' economic and job-creating performance continued to lag behind that of the U.S. as a whole.  Figures compiled by the U.S. Bureau of Labor Statistics (BLS) indicate a nationwide unemployment rate of 3.5% in July 2023.  The Illinois July 2023 figure of 4.5% was 100 basis points behind the nationwide figure.  Neighboring states also posted numbers better than Illinois.  The comparable jobless rate in Indiana was 3.3%; unemployment was counted at 2.7% in Iowa and in Missouri; the same number was 2.6% in Wisconsin, reflecting an economic status that was 190 basis points better in the Badger State than in Illinois.  

Within Illinois, July 2023 unemployment was highest in zones oriented towards traditional manufacturing activities. The benchmark jobless rates for July were 6.6% in Danville, 6.9% in Decatur, and 6.8% in Rockford.
Distillery Labs represents innovative future for Peoria & State. Recently, State Representative Ryan Spain spoke at a Hammer Swing event to commemorate the start of demolition and renovations for the new 40,000-square-foot Distillery Labs start-up innovation center in downtown Peoria. Spain said the new facility represents the innovative future of Peoria and the state to harness energy, talent and the entrepreneurial spirit to spur job creation and economic growth. Once completed in 2024, the facility will be a resource for entrepreneurs to launch and grow their businesses.
For video from the event, Click Here.